Ways To Optimize Images for Your Website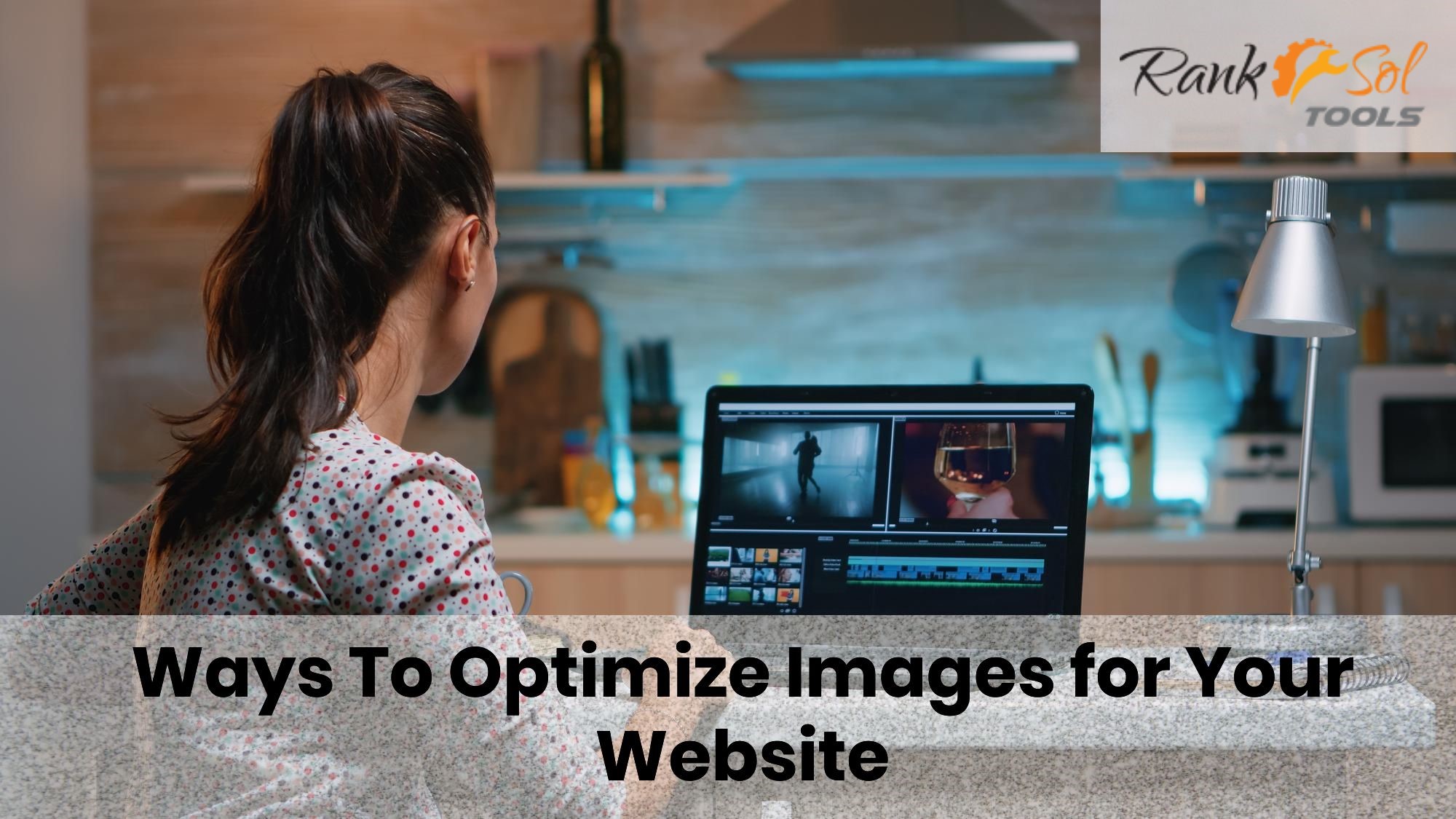 Image Optimization
Images are always a good addition to a website, but the size of an image can sometimes be too large and even cause problems. Image optimization is one of the most important aspects of building an effective website. While images can add a lot of value to your website, they also have the ability to drive down conversions and increase bounce rates.
Image optimization can mean several things, ranging from image resizing or optimizing the image format to adding tags like alt text attributes or adding descriptive text.
Importance Of Image Optimization
The main goal of optimizing images is to make sure your visitors don't get frustrated by slower load times or poor image quality.
A Picture Says A Thousand Words.
Pictures are worth a thousand words when it comes to convincing customers of a product's legitimacy and finer points.
When shopping online, it's not always possible to physically handle the object. Therefore it's important to have high-quality images that allow the consumer to examine the product in all its detail.
Almost half of the people polled in the same survey by BigCommerce and Square said they didn't like buying online since they couldn't test out the products personally.
First Impressions Matter
When buyers visit a product page, the first thing they see is the image, and that first impression may make or break whether or not they purchase the item. According to a 2017 survey, the extra product photography is the number one item online buyers in the United States want to see more of from online retailers.
Your Website May Suffer From Images
The quality of your online shopping experience and your search engine rankings may be drastically affected by the use of low-quality or improperly prepared photos for the web.
Do your pictures load slowly?

Have you included a meta description?

Are people bouncing as soon as they land?
How To Optimize Your Images
1. Select the Right File Format
The first consideration in image optimization is the image format. We should mention that there are two main types of images: vector and raster, before we go into the specifics of each.
SVG, PDF, EPS, and AI are all examples of vector file formats. Logos and icons, which are often made up of a mix of lines, points, and colors, are ideally suited to representation by vector pictures. The biggest benefit of using vector pictures is that their quality is maintained regardless of the size they are scaled to.
Raster pictures, on the other hand, are pixel-based and hence resolution-dependent. Raster pictures suffer quality loss when scaled, appearing fuzzy or pixelated. File formats include JPG, PNG, GIF, WEBP, and BMP. You need to select the right format and convert the image to that format through an Image Converter.
2. Compress Your Image Files
An important consideration when compressing images is that doing so often results in a loss in picture quality while maintaining the same file size.
Compressing images saves space and bandwidth and makes it easier for users to download and see images on a website.
When deciding how to compress photographs for the web without losing quality, you must consider the image's content, color gradients, and the intricacy of the details.
To compress photos, you may use either lossy or lossless methods, making raster files a more flexible option than vector graphics. Moreover, you can also compress your images with an online Image Compressor.
Images may be compressed using less space by using a lossy compression method. However, since lossless compression just eliminates extraneous information, it doesn't degrade the picture quality or clarity. Lossless compression is the ideal choice if high-quality images are required for the website, although it may cause a minor delay in page loading.
3. Use Relevant Image Dimensions
Size and dimensions are two separate concepts when discussing images. The first is the file size of the picture, which is the amount of space it will take up on your website (in kilobytes or megabytes, respectively).
The width and height of a picture in pixels are what is meant by "image dimension."
Using photos that are different from the right size is wasteful and can cause your site to take longer to load.
If you use an image with dimensions of 500 by 500 pixels for a thumbnail of 50 by 50 pixels, the browser will need to download the image and resize it before showing it to site visitors.
Serving photos at a reduced size is the easiest method to prevent that problem. A website may use a full-width picture or a tiny thumbnail; both will automatically be scaled to fit the space.
Images may be optimized for the site's layout with the help of Rank Sol Tools' image resizer and online image editors.
4. Write Alternative Texts
A way to optimize your photographs and enhance SEO is to include alt text. Alternate text (alt text) is a written explanation of what a picture is about. It's what's read out by screen readers and what'll show up on the website if a picture can't be loaded.
Twenty-six percent of photos on the top one million websites lacked alt texts in 2021. Including them will not only enhance your site's usability and search engine optimization, but it will also offer you a leg up on the competition.
Writing effective alt texts requires adhering to certain guidelines.
Specify everything.

Specify as much as you can about the picture you're describing, such as its meaning, it's setting, etc. Keep in mind, nonetheless, that you need not detail ornamental pictures.

Keep it short.

Make an attempt to maintain your descriptions within 125 characters. Keep in mind that the HTML code automatically handles terms like "image of" and "picture of," so you may exclude them from your alt text.

Use keywords.

Add a keyword to the alt text if you can. But don't go crazy.

Make use of

copyright-free

and high-quality images.
All photos on your site must be copyright-free to avoid litigation, which might harm your online reputation and your ranking in search results.
A few of the most well-known stock picture vendors are Shutterstock, Unsplash, and freepik Images. There are hundreds more high-quality photos available for personal and commercial use on these sites.
You may also search for photos with specific Usage Rights by visiting the Advanced Search page in Google Images. You should create unique pictures for the site as part of your image optimization procedure. Particularly if you own an online shop, having high-quality photos of your products can attract more customers and boost sales.
Conclusion
Optimizing your website's photos isn't difficult if you know what you're doing. Images are a vital aspect of any website, so it's important to get them just right before you post them. Every facet of an image—from its file type and dimensions to its size and alt attributes—must be perfect for it to be optimized. Because of this, you need to do this job accurately with the help of online Image Editing Tools.